Harvey is a classic island kook. He is the island slum-lord. He is also an electrician. The only interaction that I've had with Harvey before this week was one day at the Island Flava when he was looking for Hannah because she needed an apartment. Hannah wasn't there so he talked to me and told me a lot of his life story, which included mentioning that hsi children lived up in Canada with their mother and he only gets to spend part of the week with them since he made his living down here. At that point, he described his children as prodigies. He has this twitchy personality so I chalked it up to normal paternal pride that was oddly communicated.
After meeting Harvey, I heard a story about him. Apparently, he is a little bit of a kleptomaniac. He was in the Island Market and stole rediculous things like candybars and microwave popcorn. When a clerk asked him to pay for the items that he had shoved into his overalls, he fled. Let me say that again, he ran away. On an island. The story gets better. A civilian began to chase him and saw Harvey climb into his well-marked electrician's van that had his name and phone number on it, if he weren't already a well-known public figure. As he drove away, he threw the things he had stolen out the window into nearby bushes. You should have seen the police beat in that week's local paper!
So, with that in mind, I want to show you this: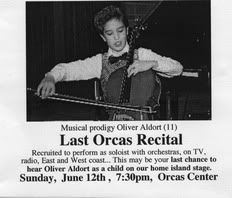 This is a quarter-sized handout but there are also 8.5 by 11" posters up on the bulletin boards as well. Also, Harvey has painted the propane tank that is located on a prominent corner and is used for local announcements. What is even funnier about the handout is that I watched him offer it to a woman at the Exchange. When she said she'd love to but she'd be off-island that day, he took it back. He took it back! Then, he gave it to me.
I thought you'd enjoy a little local color.