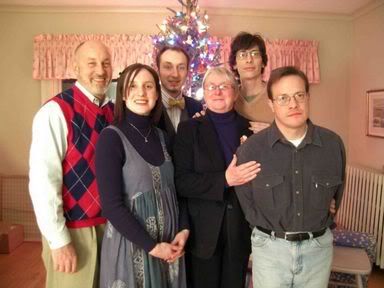 How was your holiday, Rebecca? Good question. Glad you asked. I spent a good part of the first week with my family, just hanging around the house or running errands with my mother. We made chocolate thumbprint cookies and I worked on making the magnets that were gifts to my extended family. (hint - when making magnets, always glue the decorative part to the side of the magnet that does NOT stick to metal; otherwise, you have to go back and fix like half of them) Christmas Eve and Christmas Day are the best parts of my family's celebration. My brothers arrive sometime in the afternoon of the 24th. Paul made it easy to light a fire in the fireplace and Mom has the tree lit. The night before, Jill, Clara and the twins were over to set up the train around the base (time-outs were involved; I'll not mention who had to take them). In that setting, we just hang out. I am so thankful that I was born into a family that in full of people that have the same perspective on live and what to do with time and into a house that has room for all of us to have our own space. We enjoy just being together. Often, that time involves making fun of my dad. I miss that casual time most when I'm on Orcas. We went to 5:00 church, which is designed for families with young children: only one or two verses of each carol and no sermon.
We are not good role models to the other children, despite the twenty to thirty years that we have of supposed maturity. It didn't help that we were in folding chairs in the Narthex and had no hymnals for the weird hymns that they put at the beginning of the service. We can do all the verses of the traditional ones in three part harmony (it would be four, but I'm the only girl). So, the lack of anything to do during the hymns makes us a little bored and we fill the time making each other laugh. Upon noticing the 5-year-old boy with light streaming pink through his ears, wearing a hand-knit-by-his-mother traditional German folk sweater, David whispered to me, "If he's really lucky, they'll take lots and lots of pictures." When the child with the strangely Cornish accent was reading, "In those days a decree went out from Ceasar Augustus that all the world should be registered. This was the first registration and was taken while Quirinius was governor of Syria," he sounded oddly indentical to in his struggle to pronouce the passage as Paul had on a fateful Chrstmas years ago that we've never allowed him to forget. David leaned over, patted him on the shoulder soothingly and comforted, "I'm sure he's a very bright boy." The implication was clear and very funny. Poor Paul, when he went to light his candle from the pastor's, the wick of his hit the wick of Jerry's in just the right way to extinguish the flame that the pastor had carried all the way from the Christ candle while reciting, "In the beginning was the word," and so forth. David leaned over again and asked, "What did Jerry say when you snuffed the light of Christ?" As if the accident itself hadn't already reduced us to silent choking tears in an extremely solemn moment of ceremony. Good thing Presbyterians don't put too much stock in symbolism. :-)
Dinner on Christmas Eve involved shrimp, lobster and crab legs. Woohoo! That kind of interactive food makes much of our own entertainment. We have always woken up on Christmas morning together, although there is always debate and complaining about when the first should and does rise. We snack on whatever is available (trust me, there's lots), have our own Advent ceremony celebrating Christ's birth with candles and songs, then settle into unwrapping presents. In past years, Dad has made us guess and gone about the order of who opens what with some formula known only to him. This year was a little less formula and a little more carnage. As we're all adults now, apparently guessing has been put out to pasture. After the paper was mostly picked up and David's Roomba was set to charge its battery, Mom makes amazing eggs, I make toast with the corners buttered too and Dad made a pot of the coffee that I brought from my store that was roasted on the 20th. We then laze about for the rest of our day, involving each other in our explorations of our presents. We did attempt a movie, but when we got to the theatre, THE LIFE AQUATIc had never even arrived, so we went home to make more of our own entertainment. All in all, a thoroughly enjoyable two-day holiday.