So.
So.
So.
Roller Derby.
That's right. Roller Derby.
I knew living in the city was going to pay off. Sunday night, Daniel invited me to join him and his friends to go see Roller Derby at the nearby Congress Theater. But, he added, I need to get my own friends eventually.
But let's get back to the Roller Derby. Four teams of 14 women in matching outfits on old-fashioned roller skates with names like Hell's Belles, The Manic Atackers, The Double Crossers and The Fury. That right, folks, these are theme teams. The Manic Attackers wore skimpy mental institution dresses, the Hell's Belles wore red and black spandex devil dresses. When I say dresses, be sure to picture the girls in A League of Their Own and then add a little tough-chick punky goth to the mix. And, make sure to picture quite a few Rosie O'Donnels. Some of those girls were
big
girls. But they were big girls with beautiful curves and not afraid to simply sit on a girl to keep her from getting up and scoring points.
Here. See for yourself.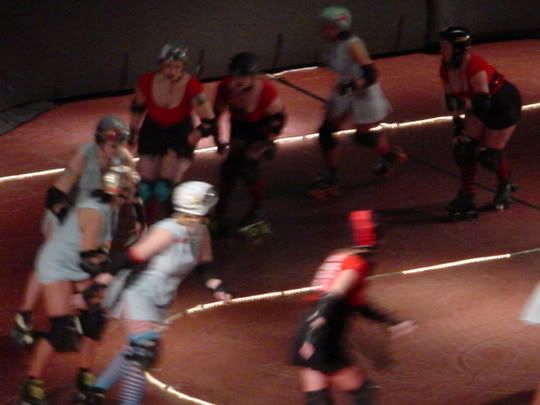 The girls also had names like Garbage Pail Kids: Tex Ann, Tequila Mockingbird, Ann Putation, Val Capone, Kami Sutra and Ivana Krushya.
I won't try to explain all the rules of Roller Derby. You can find them
here
. It was fun to watch the chaos and attempt to figure them out for myself, though. It turns out that there actually are some rules and some of these girls are fantastic at what they do. Take, for instance, Quiet Storm, one of the only black girls in the league. She had a fantastic black-girl butt and it altered her center of gravity perfectly for roller skating since she was able to lean way forward. She was a beautiful thing to watch, slipping past her blockers to pass the pivot to become lead jammer every time.
These were the finals after a long season. The first match was billed as a "grudge match" and was filled with random mascots, fantastic fights and the aforementioned Quiet Storm.
Here. Look.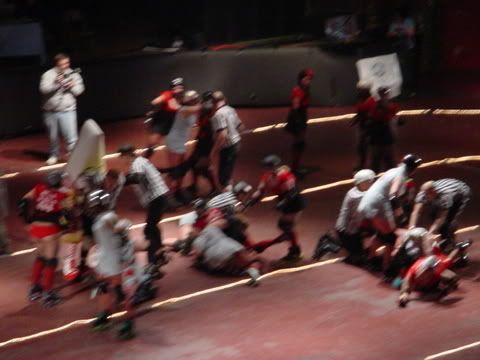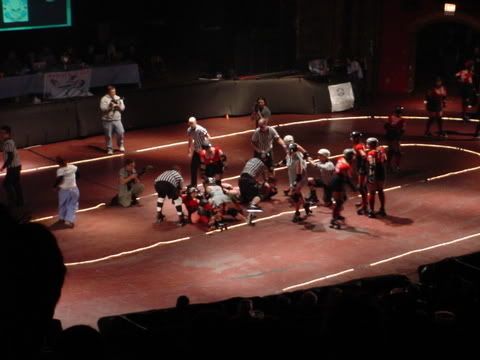 It was kind of a joke match. At various points, the girls would break into an obviously choreographed gag: everyone producing a whistle to blow at the officials or big brawls (the little ones seemed pretty real). In the end, the judges eliminated all points for both teams leaving them with a 0-0 score. A good fun time was had by all.
But can I tell you what an odd sensation it was to actually care about who was winning the championship match? Before the second match, they played a little video introducing the girls on the Double Crossers and The Fury. I don't know, something about those Fury girls appealed to me and I started rooting for them purely for their image. But then they started losing, right off the bat and so I started rooting for them as the underdogs. So, they were consistently losing through the first half and continued this trend into the second. Then - like all good sports movies - they started to catch up. Tension built until we were in the last 2 minutes and they were only four points behind. By this time, I had learned enough about the sport to know that you can only really score four points in a 2 minute jam, so were standing on tip-toes with the idea that they could actually pull it off. And sure enough, after a few false starts and some pretty amazing skating, they scored all four points! The score was 33 to 33 and the
clock ran out
! They went into five minutes of overtime for the first time all season. I'm telling you folks, I do not bleieve this was choreographed. There is a certain intensity present in really good sports and it was absolutely there in that theater. So, of course, in those five minutes of overtime, tension builds,control of the jam goes back and forth between the teams, there's a fear that Hurrican Charlie is hurt and they'll have to play the secondary jammer but then she takes one for the team and goes out there for the final two minutes anyway. It was fantastic. And, in the last seconds, The Fury pulled ahead and won. We cheered and cheered. I was slightly ashamed of myself and having a glorious time all at once. Confetti shot out of the lighting rig and they walked Ivy King out into the middle of the rink to give the girls their trophy. Ivy King was a small, white-haired lady who looked to be in her late 80s or young 90s. They introduced her as the skating sensation, Poision Ivy, the first time Roller Derby was a national pasttime
70 years ago
. Ivy got the biggest cheer of the evening. They showed her picture from then and named the cup after her. She's buried in this crowd of girls.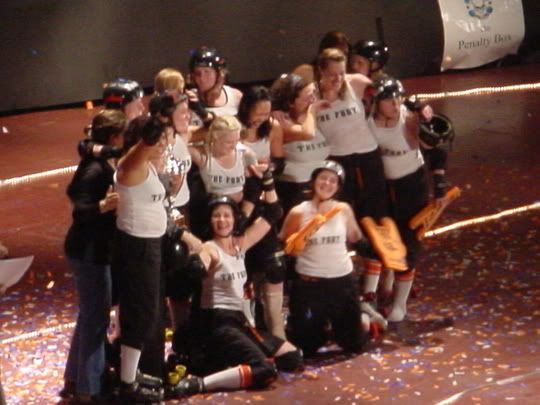 All in all, a totally satisfying evening. We went back to Michael's house and ate really good meatloaf and mac and cheese and watched Rome, which they had Tivoed. I like these folk. They're my kind of people. Too bad I have to find my own friends. :-)